Emergency Mobile Tyre Fitting
If you're stranded at the side of the road or at home with a flat tyre and need to be on your way quickly, you need your tyre fixing. In such an emergency please call 24/7 Mobile Tyre Services . We are always open so don't hesitate to call, no matter what time of the day it is or however severe the weather is.
The 24/7 team are based close to M62 / M60 / M66. We cover the whole of Greater Manchester / Lancashire & further .
You find yourself stranded on the hard shoulder of a motorway  or by the side of a road.  You've  had a tyre blowout, everything in your life does not stop there.
The  24/7 Mobile tyre Services team are just a phone call away . We have a comprehensive stock of  excellent quality pressure tested part worn  tyres.  Depending on the time of day we can supply new tyres, premium & budget quality to suite your price. Our tyre fitters are all qualified mechanics and are well trained in every aspect of tyre maintenance and fitting
Locking wheel nut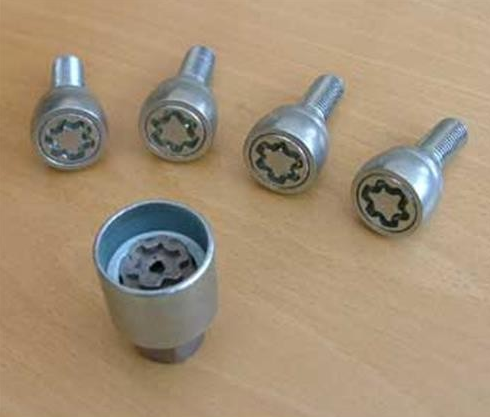 Do you know where your locking wheel nut keys are ?.  Don't worry, most people don't either.  Without the locking wheel nut keys for your specific car wheels, it will be completely impossible to change your tyres on your own if you find yourself at the side of the road with a flat . Our trained mobile tyre fitters & our vans are fully equipped to deal with any tyre emergency.
Warranties & Insurance
All our new tyres are covered by a manufacturer's warranty against any defect (materials or workmanship).
UK Tyre Law Information
UK Tyre Tread Depth Requirements 
For passenger cars and light commercial vehicles with a Gross Vehicle Weight (GVW) up to 3500kg, the legal minimum tread depth on your tyres should be no less than 1.6mm, across the central 3/4 of the breadth of the tread, in a continuous band around the entire circumference of the tyre.
To help you judge how much tread you have on your car tyres, manufacturers often mould tread bars at roughly 1.6mm.
The Penalties
Under current law, the penalty for tyres worn below the legal minimum limit is three penalty points and a maximum of £2500 in fines per tyre!
Tread depth and pressure

Whatever tyres you fit they must have enough tread  – at least 3mm is recommended for winter, and certainly no less than 2mm .  To check your tyres,  take a 20 pence coin and put it in to the tread of the tyre If you can't see the outer rim around the edge of the coin, then more than likely your tyre has a minimum of 3mm tread depth. If you can see the rim then your tyre tread is likely to be less than 3mm ,  please see picture below: