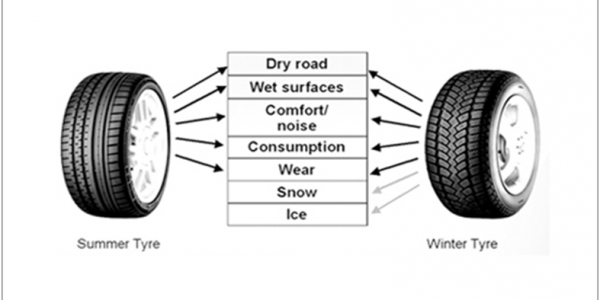 Why are Tyres Important?
Most drivers know that snow and ice can dramatically affect their safety on the road. Steering, acceleration and braking are more difficult as normal tyres have less grip in these conditions. However, it is not just these extreme wintry conditions which can reduce your safety on the road. Even cold, damp roads can dramatically affect the performance of tyres, leading to an increased accident risk.
Thankfully though, tyre manufacturers have developed a range of winter weather tyres which are specifically designed to operate in these conditions, delivering improved safety throughout the entire winter period.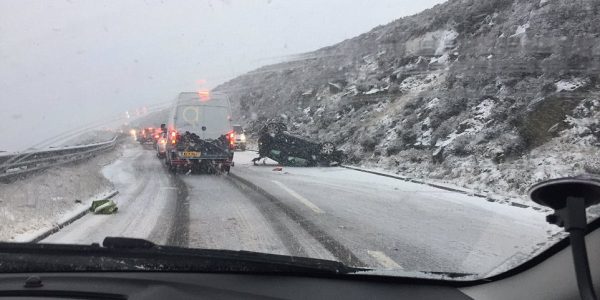 Hazardous Conditions
While snow and ice present the most obvious hazard to motorists, most drivers change their driving style to suit these conditions.
However, cold, damp roads are visually no different to wet conditions in the warmer months and drivers tend not to adjust their driving style. A tyre's performance though, is significantly reduced by this combination of conditions, making cold damp roads one of the highest safety risks to drivers.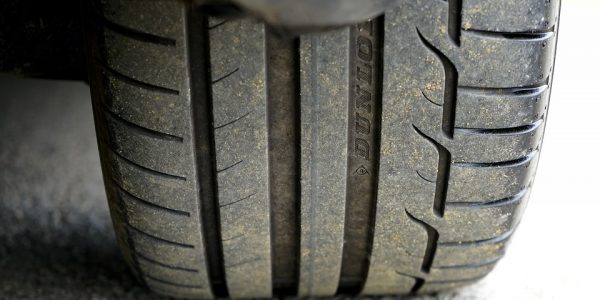 Tyre Technology
Air temperature is a crucial factor in a tyre's ability to perform. When the temperature drops below 7°C, the tread compound in normal tyres begins to harden, providing less grip. The tread compound in winter weather tyres contains more natural rubber and advanced silica compounds to minimise the hardening effect, giving extra grip and shorter stopping distances in cold, damp conditions. Together with sophisticated multi-sipe tread patterns, the combination is one that no summer tyre can match, making winter weather tyres the safest option from October through to March, when temperatures rarely rise above 7°C. This especially applies to commuters and business motorists who are on the roads in coldest conditions in the early morning and evening.
Tests conducted by the British Tyre Manufacturers' Association found that a car braking at 60mph on a wet road at 5°C stopped five metres shorter, equivalent to more than one car length, when fitted with winter weather tyres.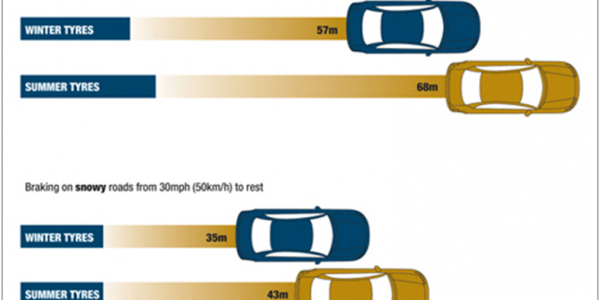 Checks for all
All drivers, irrespective of whether they fit winter weather tyres or not, should carry out regular checks throughout the winter to ensure their tyres are in the best possible condition for maximum safety.
In winter tread depth should be checked to ensure it is well above the legal minimum of 1.6mm across the central 3/4 of the tyre, around its entire circumference. TyreSafe has developed the 20p test for a simple and quick way to test your tyres' tread depth.
Tyre pressures should be checked at least once a month or before a long journey. Pressures should be checked when the tyres are cold (i.e. travelled less than 2 miles) against the vehicle manufacturers recommended levels.
When checking your tyre pressures, give the rest of the tyre a thorough visual inspection for any signs of damage. Look for any cuts, cracks bulges and remove any embedded objects.